... First pages
... More in bookstores!
Between love
and honor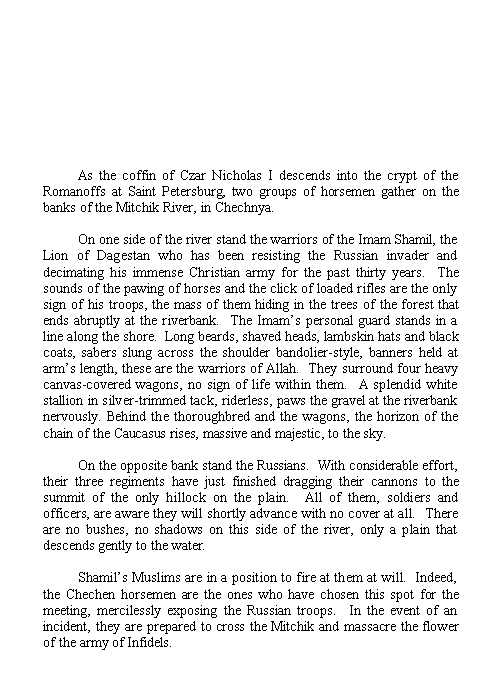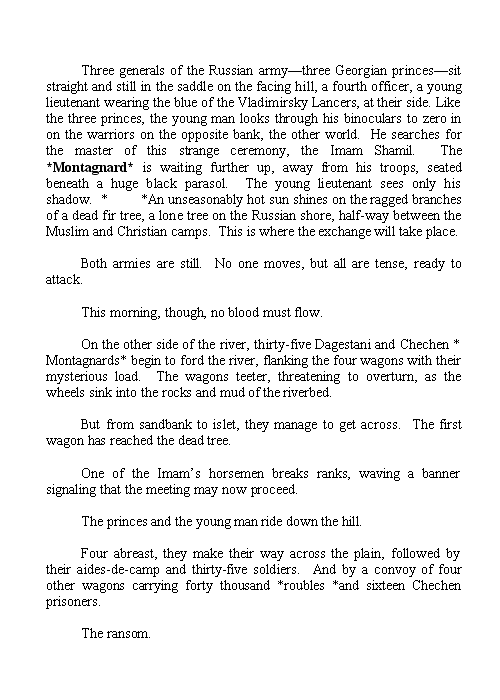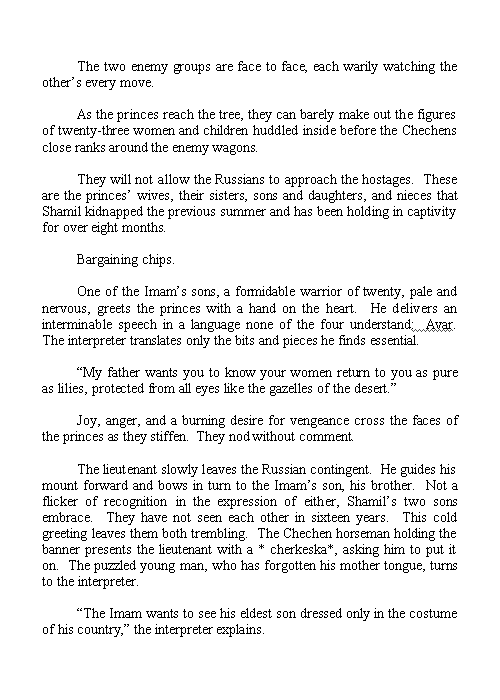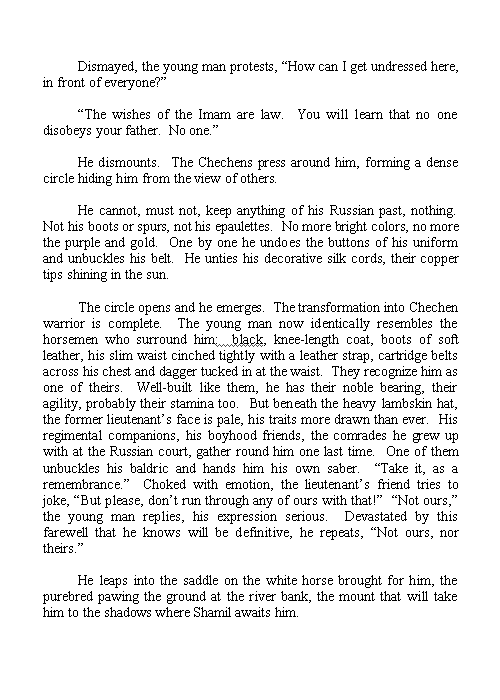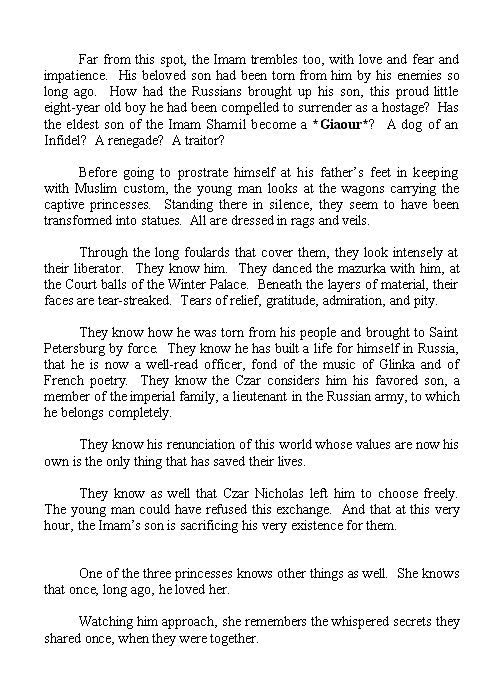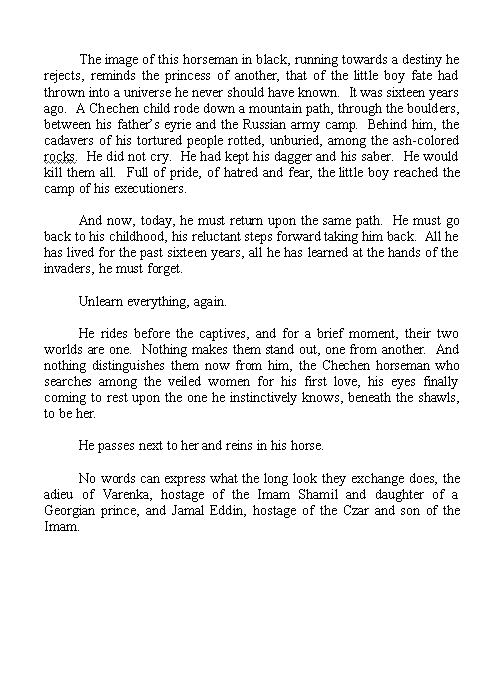 English rights sold to Amazon Crossing.
publication date, Marsh 2012
A few of the French reviews

"A novel in the grand style of Alexandre Dumas, where the magic of the story blends with love, war, religion... A total success!"
Philippe Vallet, France Info

"One of the major books of this fall [...] intense and breathtaking."
Le Progrès

"The shattered destiny of this Chechnyan prince is worth all the screenplays in Hollywood! Everything here is true, from the daggers, the horses, the diamonds... to the blood, the tears... With a light hand, Alexandra Lapierre achieves the union of history and epic. When the Academie Francaise looks for candidates, our immortal authors had better open their arms to her! Meanwhile, in the Russian winter, she offers us this rebel, his love and his honor, heartrending certainly, but glorious in the end."
Jean-Francois Kervean, Gala

"This powerful novel is the result of colossal research serving an exalted plot."
Nathalie Six, Le Figaro Littéraire

"Those who love sagas will have everything they can hope for! One cannot help but think about Alexandre Dumas, and also-and mostly-about the movie this fabulous story should become!"
Elodie Marillier, Le Point

"With this novel written the bit between her teeth, Alexandra Lapierre – sovereign and galloping – proves to be the true riding heiress of Joseph Kessel."
Raphaël Stainville, Le Figaro Magazine

"Alexandra Lapierre's book reads like an adventure story, an epic, a universal tale."
Christelle Lefebvre, Var Matin

"Though it looks like a novel, Alexandra Lapierre's book is a true and exemplary piece of history."
Direct soir

"A gripping historical novel written by an authentic pro."
Version Fémina

"This is a beautiful book based on strong research, illuminated with very successful novelized touches."
Jean Soublin, Le Monde

"You are overwhelmed by the power of the writing."
Télé 2 semaines

"Alexandra Lapierre has us gallop through the mountains of Georgia, waltz in the salons of Nicholas I, cry over the fate of this hero sacrificed on the altar of politics and religion. This novel is written with the epic inspiration of the Russian steppes: take the voyage, you will begin 2009 under the sign of adventure! "
Isabelle Marchand, Le Pélerin

"Lapierre brings to life with talent and verve the true story of the son of an Imam of Georgia [...] A thrilling story."
Claire Lesegretain, La Croix

"This mega chapter of our history is widely unknown: a forgotten stretch of our past, told here with great accuracy. Thanks to her rich documentation, and an unbelievable romantic inspiration, Alexandra Lapierre transports and totally submerges the reader."
Camille Perotti, La Libre Belgique

"Built as an adventure novel, but based on rigorous work of research, this book tells the true story of a noble and powerful man torn between two cultures and two loyalties [...] The result is a fascinating epic."
Robert-Yves Quiriconi, AP

"This is a fabulous book. Alexandra Lapierre has written a gripping novel, a profoundly human story."
onirik.net

"From the Caucasus Mountains to the Tsars' court in Saint-Petersburg, this epic is a beautiful and tragic adventure. Alexandra Lapierre's book is comparable in magnitude and talent to the greatest Russian masterpieces and the greatest French novels of the Belle Époque."
Lireestunplaisir.skynetblogs.be

"Written with the fiery spirit of a Cossack cavalry charge, Alexandra Lapierre's story is indeed a novel! But a novel where the romance emanates from the most scrupulously researched history."
Ph. Stephane Mortagne, La Voix du Nord

"No one can ever fault Alexandra Lapierre on the authenticity of the facts she has unearthed, their historical context or their psychological truth. She makes use of archival collections and the memories of contemporaries with the rigor of a scholar. Her writing ability and her sensitivity do the rest ! This is the passionate story of an exceptional man's extraordinary destiny. "
P. Cornut-Gentille, Service Litteraire, le Journal des Ecrivains fait par les Ecrivains.